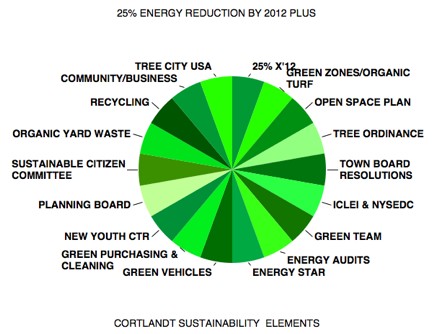 Cortlandt Sustainability Elements
COMMUNITY /BUSINESS
Involve the local business community in working with the Town to reduce their energy consumption by establishing similar goals, and provide resource information to the business community. Engage the residents of the Town to further their own individual, family and household green programs. A future project in this area could involve working with the electric and gas utility, and home heating oil providers to gather data for the green house gas emissions of the private residential and business sector to establish a Town wide carbon footprint.
25% by 2012 PLANS
Cortlandt Town Board Resolution to set a goal to reduce all energy commodities in the delivery of Town services and operations. In addition, development of an implementation action plans for each department to reduce their consumption of electricity, natural gas, diesel fuel, unleaded gasoline and heating fuel oil. This would also include the greenhouse gas emission inventory to measure the current carbon footprint of Town operations and potentially set GHG reduction goals. At this point the simple goal is to reduce energy consumption 25% by the end of the year 2012. This is an ambitious goal and this type of goal setting is consistent with NYS, County and other local municipal governments.
TREE CITY USA
Continuation and strengthening the Town's successful urban forestry activities in the Arbor Day Tree City USA award program. The Town has been an annual recipient of this award.
OPEN SPACE PRESERVATION
Recognition of the existing leadership role the Town has played in being at the forefront of developing a formal program for the acquisition and preservation of open space. An example is the partnership between the Town, Scenic Hudson, and the County of Westchester in the purchase of 350 acres now knows as the Hudson Highlands Gateway Park in northern Cortlandt. Also included are the various grants and NYSDEC funded projects for planting of tree saplings in open space parklands; example NYSDEC Trees for Tributaries Program.
TREE PRESERVATION ORDINANCE
Town Board adopted a comprehensive tree management policy that includes regulations for residents and developers.
TOWN BOARD RESOLUTIONS
Town Board adoption of various resolutions to provide the overall guiding documents for implementation of various energy conservation and climate change actions as an illustration of political leadership. Example; resolution to join the Northern Westchester Energy Action Coalition, a consortium of 14 local governments in a shared service and regional systemic approach to energy conservation, and climate change action.
In addition to 25% by 12, the Town Board has considered other resolutions, including implementation action plans, energy audits, employee Green Team, sustainability mission statements and other climate change initiatives.
ICLEI & NEW YORK STATE DEPARTMENT OF CONSERVATION
The Town of Cortlandt is a member of the International Council for Local Environmental initiatives since 2008, and the Town Board has adopted the NYSEDC Climate Change community Action Pledge.
GREEN TEAM
The Town established in 2009 an employee centered green team. The focus of the green team is the empowerment of a cross division employee group to self initiate green actions in Town Hall and other Town departments. Green Team meetings are held, specific green focus sub-committees were formed, and internal communications systems established. Examples of sub-committees formed; a) communications and education b) green fleet maintenance
RECYCLING
The Department of Environmental Services Sanitation Division continues to develop additional pilot programs with the goal increasing recycling programs and further reducing the recyclables out of the waste stream; example; e-waste resident drop off and curbside collection programs. The Town continues to provide a County operated recycling transfer station and fall organic yard waste and leaf transfer station. Both of these shared service programs help in reduction of GHG emissions in reducing transportation of these waste products.
NEW YOUTH & RECREATION CENTER
Cortlandt opened a new youth center in September 2009; the building was designed with some specific green building features in building envelope, interior furnishings, HVAC systems, and lighting. Although the building does not meet any LEED building criteria, it does incorporate many green best practices for energy efficiency. The design also includes a photo voltaic solar collection array on the roof to generate a small quantity of electric power. These PV panels were provided by the Town's electricity provider, the New York Power Authority.
LEED & ENERGY STAR
Cortlandt Department of Technical Services Code Enforcement and Engineering Divisions continue to investigate the incorporation of various green building requirements into the Town's building permit process.
GREEN PURCHASING
The Town's Purchasing Department has developed for Town Board review a Green Procurement Policy. This includes an across-the-board request to purchase review for green best purchasing practices. This includes the requesting department to investigate, and analyze the needed item for green options, examples; green vehicles, and selection of office copy paper with the maximum recycled paper content, and department end-user needs assessment.
GREEN VEHICLES
The DES Highway and Sanitation fleet mechanics have investigated the application of green oil filters to extend the mileage between oil changes and extended the life of the oil, and continues to research bio-fuels and consideration of development of a green fleet replacement program when various heavy duty vehicles are approaching their useful life year of service. The Town currently owns and operates four hybrid vehicles and is exploring this as an option each time a sedan vehicle is needed to replace a gas guzzling "clunker".
ENERGY AUDITS
Cortlandt has already completed a number of energy audits on some its buildings. These audits are often the prerequisite for grant applications for energy retrofits and other energy conservation projects. These audits are consistent with the Town's 25% by year 2012 energy reduction campaign goals. These audits have been provided, at no cost to the Town by the NYPA or have been paid for by the Town. Energy audits have been completed on the Town Hall, and the Morabito Senior Community Center. An example of grant application being completed is for LED lighting retrofits for both Town Hall and the Morabito Center. Others are pending for the highly inefficient HVAC system at Town Hall. The audits are a required first step to get energy projects to a "shovel ready" stage for implementation funding. Other audits are pending for other Town facilities, example the Northern Westchester Joint Waterworks.
PLANNING BOARD
A comprehensive review of current Planning board internal project review procedures is recommended for the purpose of establishing a protocol to review developers projects for climate change, energy efficiency, water, transportation and other land use green concepts and technologies. Example; compliance with various storm water management principles, and other concepts from the "How Green is My Town" organization.
SUSTAINABLE CORTLANDT CITIZEN COMMITTEE (SCCC)
The Town Board adopted a resolution to form a citizen advisory committee. Their mission is to work with various Town departments, elected officials and standing committees to develop a Climate Change Action Plan. This involvement of citizens is recommended and consistent with ICLEI, and the NYSDEC Climate Smart Communities Pledge. Their role is varied and important and valued resource to the Town administration and department heads for innovative out of the box thinking.
ORGANIC YARD WASTE
Various studies have been completed in the regional to identify this waste product that continues to be needed to be removed from the typical solid waste stream and recycled. Whether this is done via NYS mandates or voluntary municipal programs organic yard waste recycling is an on-going problem. Cortlandt, along with the Village of Croton-on-Hudson have taking a leadership role in working with the Westchester County Department of Environmental Facilities to operate an organic yard waste and leaf transfer station in the Town. The NWEAC, which the Town is an active member, is further developing a strategy to provide a regional comprehensive approach to organic yard waste and as a potential source of revenue.
GREEN ZONES & ORGANIC TURF
In order to apply for various green vehicle grant programs, the establishment of a municipal green zone is often a requirement. A green zone is self described as a location in the Town where other green features, designs and other concepts are or will be incorporated. The transportation needs to service that designated location can then sometimes be electric or other alternative fuel vehicles. An example of a green zone could be a park, pool or other recreational facility that requires maintenance and service vehicles.
Organic turf maintenance is a Town pilot project for the total elimination of all fertilizers, and herbicides, with a conversion to an integrated pest management and organic fertilization on two selected recreation ball fields. This pilot project will be evaluated and potentially expanded to all Town turf fields. The Town is year two of a similar project in the Town Hall courtyard.
GREEN CLEANING
The Town has introduced green cleaning products in both Town Hall and the Morabito Senior Community Center. This was also part of a green purchasing decision in 2009.
OTHER
This section is left vacant form the time being so that as the Town's sustainability programs grow, they can be added to the green wheel of sustainable Cortlandt.