Town of Cortlandt "In The Bag"
"In the Bag"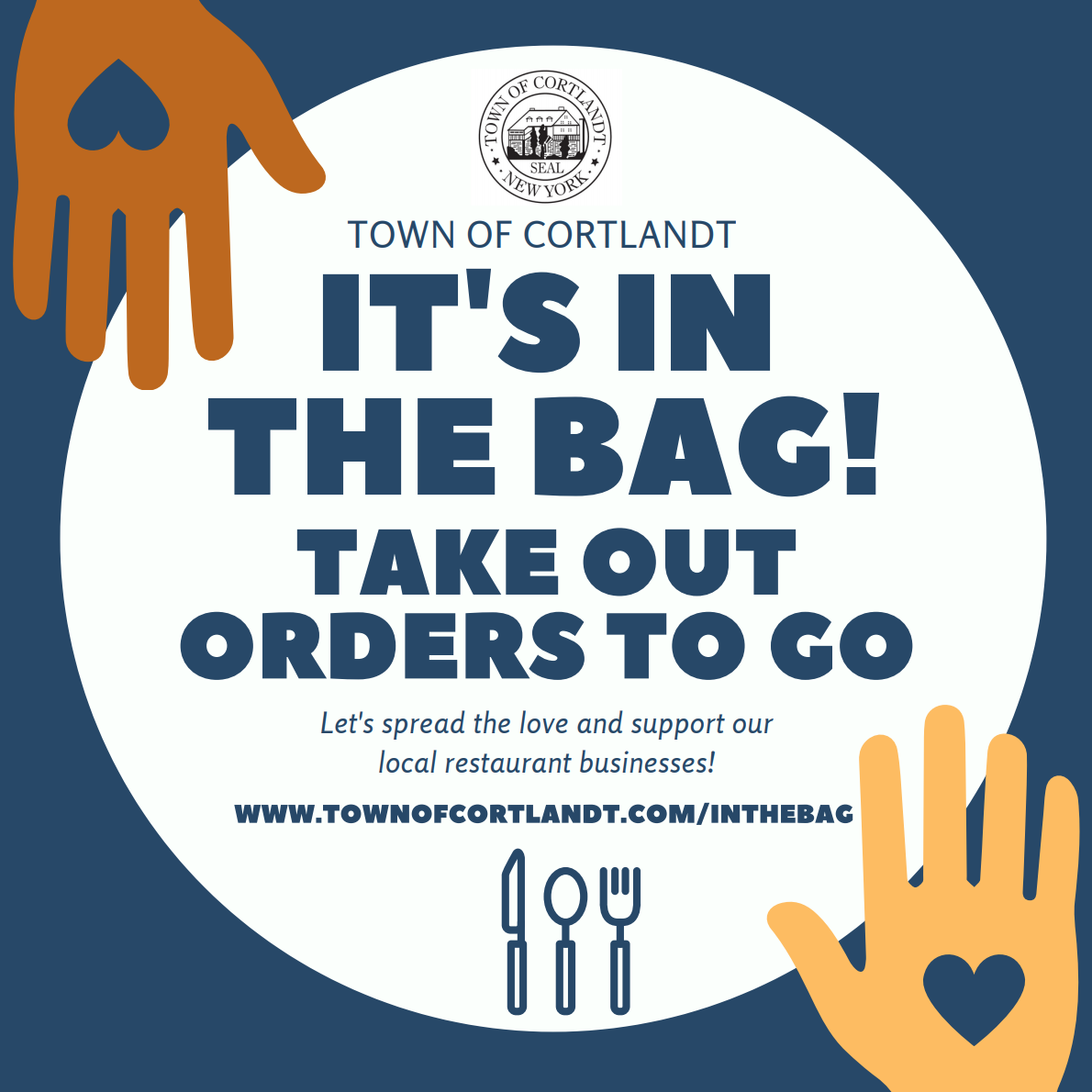 Click here for the Hudson Valley Gateway Chamber of Commerce list of Town of Cortlandt Restaurants Montrose, Buchanan, Verplanck, Croton-on-Hudson, Mohegan Lake
The HVGCC is committed to supporting all small businesses- members and non members- during this time. If your information needs to be added or updated, please email lbrady@hvgatewaychamber.com.
---
Over 30 Cortlandt restaurants and delis are open for takeout and/or curbside pickup.
Partake in the Town's "It's in the Bag" campaign to support small business.
Here is the list of participants (as of April 10th):
105-Twenty Bar and Grill
120 Grand Street, Croton-on-Hudson
914-862-4424
Take Out, Curbside Pickup and Delivery
Angela's Deli
138 Broadway, Verplanck
914-737-9875
5:30AM-8:30PM
Take Out
Applebee's Grill & Bar
3127 E. Main St., Mohegan Lake
914-526-9000
12 PM-9 PM
Bagels on Hudson
171 Riverside Ave., Croton-on-Hudson
914-271-5412
6 AM-4 PM
http://www.facebook.com/bagelsonhudson
Take Out & Curbside Pickup Available
Baked by Susan
379 S. Riverside Ave, Croton-on-Hudson
914-862-0874
Wed-Sun 12 PM-4 PM
Curbside & Delivery Available
Purchase gift cards & items online
Black Cow Coffee Company
4 Old Post Rd. S., Croton-on-Hudson
914-271-7544
Tues & Thurs 10 AM-12 PM, Sat 10 AM-2 PM
Bean Sales Available
Black Rock Kitchen
171 Grand Street, Croton-on-Hudson
914-810-7101
http://www.blackrockkitchencroton.com
Take Out, Curbside Pickup and Delivery Available
Cole's Market
2147 Albany Post Rd., Montrose
914-737-7737
Mon-Sat 10 AM-6 PM, Sun 9 AM-2 PM
Pick Up Food Items & Delivery of Sandwiches through DoorDash
Cortlandt Carvel
2 Westbrook Drive
(914)528-2253
12:00 PM - 9:00 PM
https://www.facebook.com/carvelcortlandt/
Takeout and delivery available
Cortlandt Colonial Restaurant
714 Albany Post Rd., Cortlandt Manor
914-739-3900
http://www.facebook.com/cortlandtcolonial
Take Out Available, Daily Specials
Croton Carvel
24 Old Albany Post Road, Croton-on-Hudson
914-271-8888
11:30 AM-8 PM
Take Out available
Croton Colonial Diner
221 S. Riverside Ave., Croton-on-Hudson
914-271-8868
11 AM-6 PM
http://www.crotoncolonialdiner.com
Take Out available
Croton Tapsmith
129 Grand St., Croton-on-Hudson
914-271-BEER (2337)
4 PM-7 PM
Beer, Wine, Cider Take Out
Eatalia on Hudson
385 S. Riverside Ave., Croton-on-Hudson
914-862-4500
http://www.eataliaonhudson.com
Take Out, Curbside Delivery Available
Fat Sal's Grill NY
265 Tate Ave., Buchanan
914-930-1770
http://www.fatsalsbarandgrill.com
Take Out, Delivery through Doordash Available
Fino Restaurant
1 Baltic Place , Croton-on-Hudson
914-271-2600
Take Out, Curbside Pickup
Fresh to Go Deli
2141 Crompond Road, Cortlandt Manor
Cortlandt Manor
914-736-3354
Takeout and Delivery Available
Gaetano's Grill
2025 Albany Post Rd., Croton-on-Hudson
914-271-3133
Take Out, Curbside Pickup, and Delivery Available
Grandstand
197 Grand St., Croton-on-Hudson
914-271-8033
http://www.facebook.com/thegrandstandyyankeefans
Take Out & Curbside Pick Up Available
Junction JT's Food Market
123 Grand Street, Croton-on-Hudson
914-862-4461
Take Out, Curbside Pickup, Delivery
Little Sorrento
3566 Crompond Rd., Cortlandt Manor
914-736-6767
Take Out, Curbside & Delivery Available
Marcello's Pizza & Deli
104 6th Street, Verplanck
914-739-0118
https://www.marcellospizzadeli.com/
Take Out, Curbside Pick Up, Delivery
Nonna's of Buchanan
3113 Albany Post Road, Buchanan
914-502-0070
https://www.nonnasofbuchanan.com/
Take Out & Delivery
Old Fashioned Pizza
24 Old Albany Post Road, Croton-on-Hudson
914-737-4100
Take Out, Curbside Pickup
Redline Roadhouse
5739 Albany Post Road, Cortlandt Manor
914-358-5740
http://www.redlineroadhouse.com
Take Out
Rooster's Wings & Brew
1 Baker St., Mohegan Lake
914-743-1797
http://www.roosterswingsandbrew.com
Take Out Available
Sansotta Bros. Deli
2008 Crompond Rd., Cortlandt Manor
914-737-1100
Savannah's Southern House
3901 Crompond Rd., Cortlandt Manor
914-736-1203
Mon-Sat 4 PM-8 PM, Sun 12 PM-6 PM
Take Out, Curbside Pickup & Delivery Available
The Back Nine Indoor Golf
2050 E Main Street, Cortlandt Manor
914-739-4653
4 PM-8 PM
http://www.thebacknineindoorgolf.com
Take Out available
The Dessertist
50 Maple St., Croton-on-Hudson
914-862-4016
Curbside Pickup Available
The Tavern at Croton Landing
41 N. Riverside Ave., Croton-on-Hudson
914-271-8020
http://www.thetaverncroton.com
Take Out & Delivery Available
The Winery at St. George
1715 E Main Street, Mohegan Lake
914-455-4572
http://www.saintgeorgerestaurant.com
Take Out
Yuka's Latin Fusion
2011 Albany Post Rd, Croton-on-Hudson
914-862-4449
http://www.yukaslatinfusion.com
Pick Up & delivery Available