Code Enforcement Division
Page Navigation

Close
Code Enforcement Division
DEPARTMENT OF TECHNICAL SERVICES (DOTS): Code Enforcement
MARTIN ROGERS, Director of Code Enforcement
HOLLY HAIGHT, Assistant Director of Code Enforcement
JOHN SCHEMBARI, Assistant Building Inspector
Bill Corcoran, Assistant Building Inspector
MARYKIM CESARINI, Office Administrative Staff
Town Hall Office # 4
1 Heady Street
Cortlandt Manor, NY 10567
Main Number: 914-734-1010
Fax Number: 914-293-0991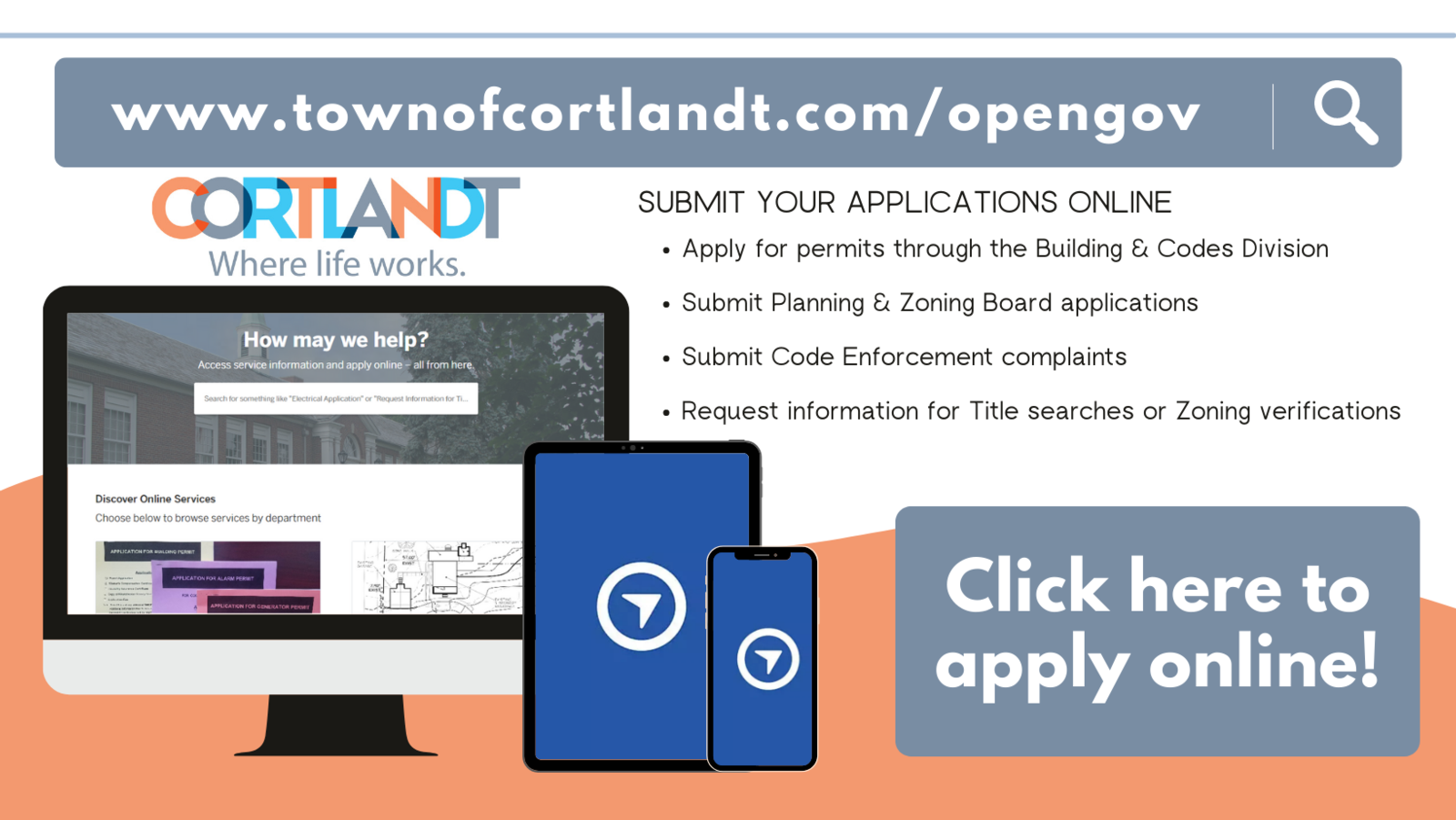 Amanda's Law: Carbon Monoxide Alarm Requirements
Code Enforcement Information Documents
All zoning and zoning issues are administered through the DOTS - Code Enforcement division. For more information about the ZBA - call 914-734-1010.
Click here for an important update regarding NYS Department of State Swimming Pool Rules and Regulations.
---
The Code Enforcement Division of DOTS is the "building department" of the Town and is responsible for the effective, timely and consistent enforcement of local and state laws. One of the major responsibilities of the Code Enforcement Division is the issuance of building permits, demolition permits and certificates of occupancy. Prior to the issuance of any permit, Code Enforcement staff performs site inspections and conducts a full review, including coordination with our Engineering Division.

In addition, Code Enforcement is responsible for the review and issuance of several other permits including: steep slopes and wetlands permits, sign permits, alarm permits and prior to zoning letters and duplicate certificates of occupancy in connection with municipal searches.

Code Enforcement personnel include building inspectors, fire inspector and code enforcement officers. Their role is to investigate complaints regarding Town and NYS Building Codes and issuing violations and appearance tickets as well as to review building permit applications and determine whether one needs to bring a case before the Zoning Board of Appeals. The Fire Inspector performs regular fire inspections on commercial and multi-family properties and acts as the Towns liaison to the Fire Advisory Board.

Code also encompasses parking enforcement and animal control in the Town and they investigate complaints concerning animal control (dog & cats) and provide parking enforcement (handicap & fire lanes) on commercial properties and issues violations and appearance tickets, when appropriate.
FOR MORE INFORMATION ABOUT THE Code Enforcement DIVISION INCLUDING A CONTACT AND FREQUENTLY ASKED QUESTIONS - PLEASE CLICK ON PAGE NAVIGATION ON THE UPPER RIGHT HAND CORNER AND VIEW THE DIFFERENT DROP DOWN MENUS.