Town Comptroller
Page Navigation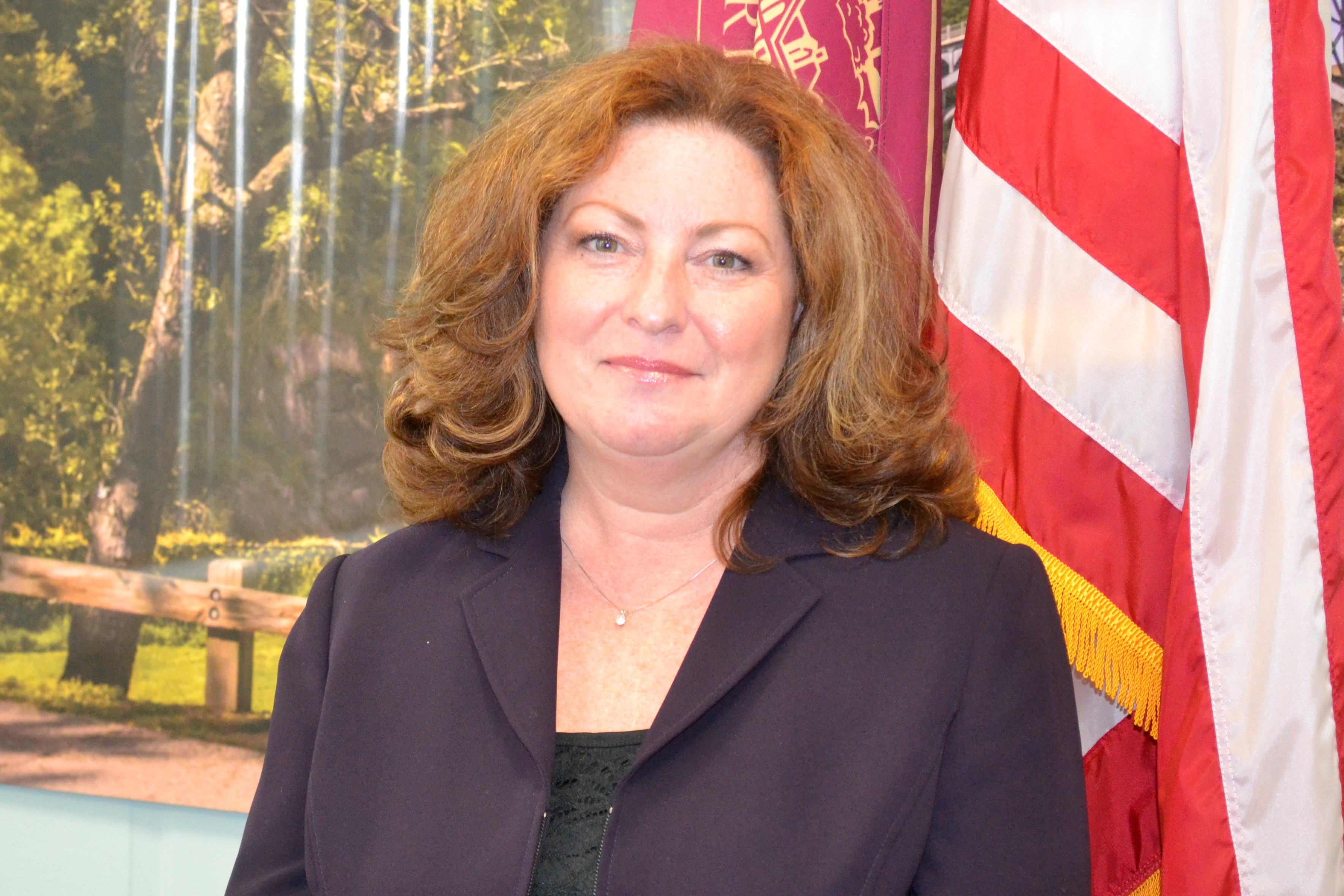 Town Comptroller, Patricia Robcke
Phone: 914-734-1070
Fax: 914-734-1077
Cortlandt Manor, NY 10567
Patricia Robcke was appointed Town Comptroller July 21, 2015, after serving as Deputy Comptroller for 22 years. Patty is a Certified Public Accountant (CPA), with a Bachelor's Degree in Business Administration (BBA) and a Master's Degree in Public Administration (MPA), from Pace University.
The Town Comptroller provides overall management supervision of the financial activities of the Town under the direction of the Supervisor and Town Board. The Comptroller's Office is responsible for meeting the many challenges of financial reporting, including the preparation of the comprehensive annual financial report (CAFR). The Town of Cortlandt has received a Certificate of Achievement for Excellence in Financial Reporting, presented by the Government Finance Officers Association of the United States and Canada (GFOA) for the Fiscal Year Ended December 31, 2021, and each year prior as far back as the 1980's. The Certificate of Achievement is the highest form of recognition for excellence in state and local government financial reporting. A Certificate of Achievement is valid for a period of one year only. The Town submitted its 2020 CAFR to the GFOA and expects that such report conforms to the requirements of the certificate program. The Town of Cortlandt and the Comptroller's Office are proud to have achieved the highest standards in governmental accounting and financial reporting.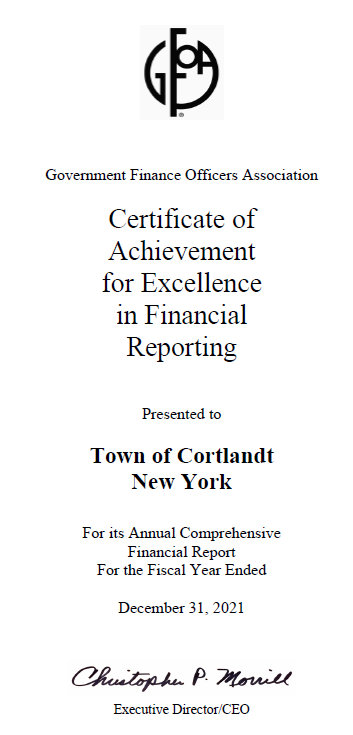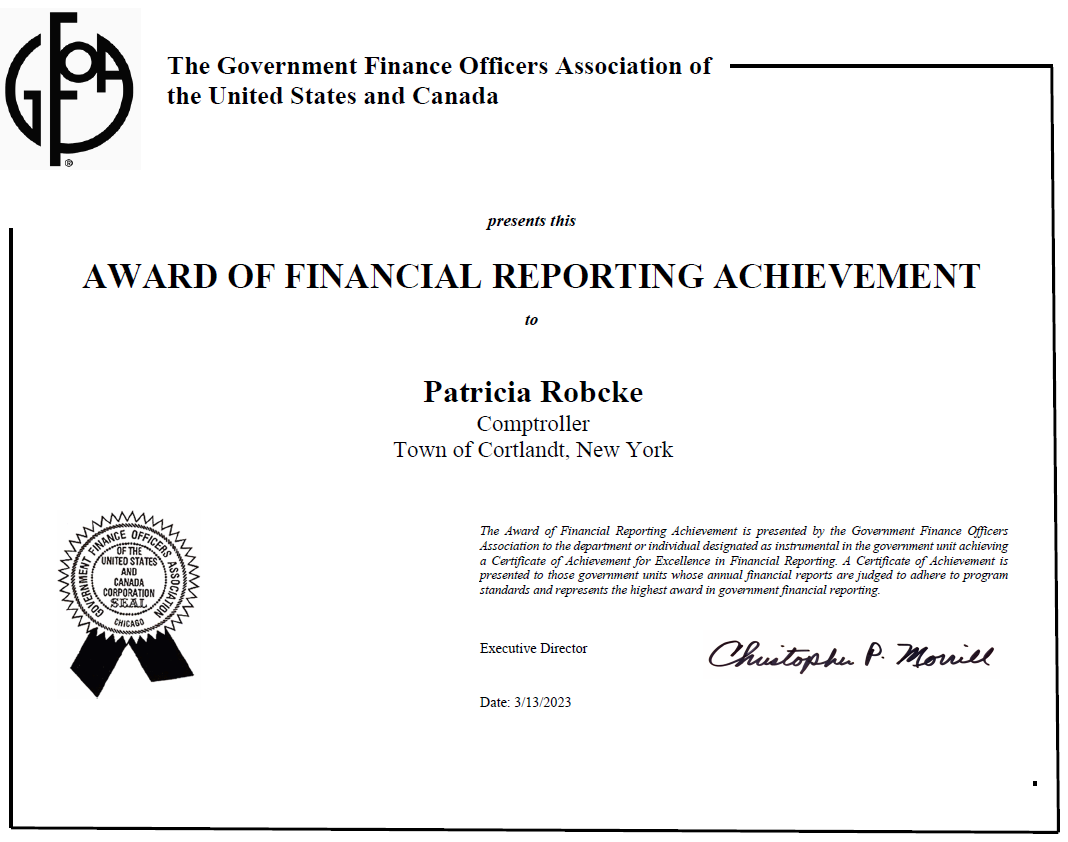 Responsibilities of this department include:
Maintains a system of accounts which is in conformity with generally accepted accounting principles

Assists the Town Supervisor in preparing the Town's annual operating budget

Prepares monthly, quarterly, and annual financial reports, including analysis of operating revenues and expenditures

Processes vendor claims and purchase orders

Receives, records, and deposits all Town receipts

Maintains Town payroll and related payroll taxes

Manages Workers Compensation Program with Town Attorney

Administers the NYS Retirement System program along with the Human Resources Manager

Oversees employee benefits in accordance with Collective Bargaining Agreements

Maintains and administers the Town's Central Data Processing Systems with the Director of Purchasing and Technology
Town of Cortlandt Proposed and Adopted Budgets
2017 Adopted Budget

2016 Adopted Budget

2015 Adopted Budget
Comprehensive Annual Financial Reports (CAFR)
2022 Annual Comprehensive Financial Report
2021 Annual Comprehensive Financial Report
2020 Comprehensive Annual Financial Report
2019 Comprehensive Annual Financial Report
2018 Comprehensive Annual Financial Report
2017 Comprehensive Annual Financial Report
2016 Comprehensive Annual Financial Report
2015 Comprehensive Annual Financial Report
Other Financial Information
Moody's Credit Action – Upgrade 2019
FOR MORE INFORMATION ABOUT THE town comptroller- PLEASE CLICK ON PAGE NAVIGATION ON THE UPPER RIGHT HAND CORNER AND VIEW THE DIFFERENT DROP DOWN MENUS.